Maglula UpLULA Speedloader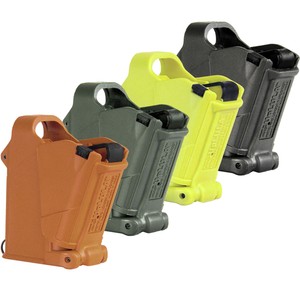 A funny name for a fantastic product. We've had these in the store for about a Month, and I cannot say enough great things about it. While the packaging says 9mm-.45, however, it works on my G42 (.380) magazines. One of the least favorite tasks with this wonderful sport is loading those magazines (secondly only to cleaning), and this really does make it easier and more enjoyable.. especially as the cooler weather comes back around. Forget killing your thumbs to load those magazines, check out one of these UpLULA's and make your life so much easier.
I love it, and as anyone who has come in to the store recently knows just how much I love them. They range in sizes and calibers, .22lr to 5.56mm, and are really a range bag essential for everyone!
---
Sig Sauer P238
I am a female of 5'6" and have a small frame but this is the most comfortable gun to carry and shoot that I have found while following the MA approved list of handguns. This is the .380 model called Nitron. This gun comes with Sig Light Tritium night sights and 1 magazine. You can purchase additional magazines with or without an extended grip. I can honestly say this is extremely comfortable to carry just about anywhere and I am extremely confident knowing that I have this as my everyday carry. The price ranges from about $585.00 to $650.00 depending on the model. I know there are a lot of carry options out there but this one is my favorite!
---
Glock 42
Today I will be reviewing my newest pistol purchase, a Glock 42. I never even considered the smallest Glock an option because I already own a Glock 43 and I am very happy with its size and concealability. So there I was in Firearms Professionals staring at this Glock 42 in the case and I started thinking how that is smaller, lighter and would be even more concealable than my 43. Well a friend allowed me to shoot her Glock 42 and that was all it took to convince me I had found my next carry gun. I purchased the one in the case and took it to the range.  It's been a long time since I've owned a .380 and I can tell you I wish I had bought the Glock 42 sooner.  I was expecting it to be, how do I put it… not accurate? Man was I wrong. At 15 to 20 feet I was keeping 2 to 3 inch shot groups which for such a small pistol is great. I experienced zero malfunctions with several different types of ammo (no surprise there). Lastly, where for me where the 42 really shines is concealability. I purchased an inside the waistband holster and the relative lightweight, thin profile and snag free edges on the Glock 42 make for a pistol that is very concealable under a t-shirt. I didn't feel as if anyone could see that I was carrying a firearm and knew I had a very reliable high quality firearm in the Glock 42. Firearms Professionals is an Authorized Glock Blue Label Dealer and if you're in the market for a great off duty or backup pistol you can't go wrong with the Glock 42.
---